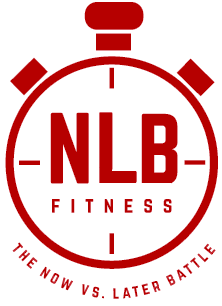 Fitness is so much more than sculpted abs and a round booty. It's about the capabilities your body has to sustain everyday living. It's about how well your heart, lungs, and blood function together to keep you moving and alive. It's about living your life while enjoying every step.
The "NLB" of NLBfitness stands for the "Now vs. Later Battle" we all face. We are constantly enjoying ourselves now and paying for the consequences later. One order of a double bacon cheeseburger burger, a serving of large fries, and XL soda won't kill you, but if your repeat that on a weekly basis, it could.
NLBfitness wants to teach you about balancing your health (and sanity). We all have different lifestyles, but we can be healthy while enjoying everything this world has to offer. You should strive to enhance yourself everyday now, so you can be your best later. Honor your body by bettering it every chance you get.
Ready to conquer the battle of changing your life NOW instead of LATER?
The training was very hands on, and very informative. I loved the fact that my trainer completed each workout with me and informed me about how to execute each exercise and the benefits/importance of each exercise. As I trained alongside my trainer, I was able to confirm if I had the proper form by looking at how she was doing the exercises and by her checking to see if I was doing them properly. I was motivated to push through the exercises that challenged me the most and that helped me to later motivate myself in each workout.

Laura Okororie

Personal Training Sessions

We were not given any tasks that were above our physical capabilities and when we doubted ourselves we were pushed to work faster, harder, and stronger.

Deneil Mullings

Group Training Sessions

It was training that I could manage and do on my own and didn't require a purchase of unnecessary equipment.

Ashley Canty

Group Training Sessions

What I liked most about NLBfitness was her ability to make training efficient and effective for a busy college student.

Marqualo McDaniels

Group Training Sessions

I liked how she pushed us to actually do work. She knew what each one of us were capable of and made us live up to that.

Khalid Briggs

Group Training Sessions